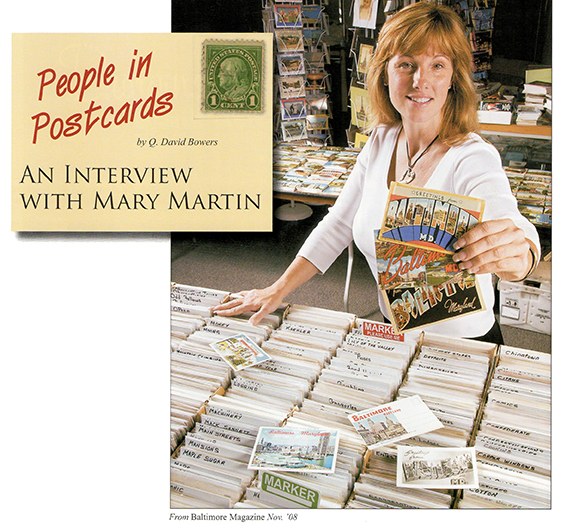 Originally published in Postcard World Magazine.
Postcard collector and researcher Q. David (Dave) Bowers recently interviewed Mary L. Martin, on the eve of the launching of Postcard World. If you know Mary Martin, then some of this will be familiar, but there will probably be some new aspects as well. If you are not acquainted, this will give you some background information about the publisher. Enjoy.
---
Q. David Bowers (QDB): I am on the telephone with Mary Martin who has just formed a new entity, Postcard World, a magazine to be issued bi-monthly. Mary has been in the trade for a long time. So here we go! Mary, how did you get into postcards?
Mary L. Martin (MLM): Well, I was pretty much born into the postcard business. My mom started it before I was born. I grew up with postcards around me, traveling to do some shows, watching my Mom, who had the same name as I do, type up the auctions every month, and I helped her you know with stapling them and mailing them out, so I went along and traveled with my Mom and Dad, Bill Martin, all over the world as a child. In my mid twenties I decided to continue on with the business. Postcards and "postcard people" have always been a part of my life.
Mom passed away about nine years ago and my father still works in the business. He travels a lot and he attends show. He is getting along in years, but still comes to the office when he is in town. He's still actively buying a lot of postcards. My son Joe, in his twenties, works with me and is the third generation in the business.
QDB: How did the transition go from your parents having the company to you being, shall I say, the president and the CEO and the chief decision-maker, as you are now?
MLM: When I joined officially, out of college and starting to raise a family, I started working full-time with my Mom and Dad. Everything came naturally—no training was needed—as I had grown up in the business. The postcard hobby was growing rapidly, and my parents were probably the leading worldwide dealers in scarce and rare issues. At first, I took over the supply part of the business—selling albums, holders, and the like, for protecting, displaying, and storing postcards. This was a large enterprise in its own right.
We used to be in Glen Burnie, Maryland. Needing more space, we moved to Perryville, a few towns away, where we are now. Our building used to be a car dealership. We have a large showroom for the display of cards, supplies, and other things, and are always delighted to see visitors. When Mom decided to phase out of the business and retire, I assumed all of the responsibilities. The transition was very easy.
QDB: Why don't you describe what someone would find if they went to Perryville to visit your showroom?
MLM: Our building in Perryville is located right on Route 40. It used to be a Ford car dealership. It was built in the 1960s and when we bought it, it was still was used for that. When the previous owner left, we had a big showroom which used to be filled with cars, now it is filled with postcards. People can come and browse through boxes filled with subjects that interest them. We are open every day of the week, except if we have a large postcard show to attend and the entire staff of about nine people is away. It is always good to e-mail or telephone before planning a visit. We have people from all over the world. They'll come and often spend a few days here. Often they start by looking at one subject, then stray to check out others. Before they know it, they have a new collecting specialty!
Behind our showroom is a large warehouse area of about 9,000 square feet, where we keep our show stock, inventory of special areas, and new purchases awaiting classification. Most of my staff members have worked with me for a long time, and if you name your interest, we can usually find a lot for you to look at.
QDB: What are some of the subjects that people collect? What topics? And maybe also a little bit about the prices of that. Suppose someone is a serious postcard collector and visits Perryville or deals with you through the mail. What are several different specialties people like and maybe the price ranges and how they go about collecting them.
MLM: Well, for instance, yesterday I had somebody here from the West Coast and he was looking for early advertising postcards. He was also looking through some of the Western states and spent most of the day. A couple days before that I had somebody that traveled here just to look at all we had in the way of cards from South America. He travels throughout that continent. He spent three days here going through the different countries and went home with many things.
Hometown cards are always favorites with visitors. A collection of fifty to a hundred cards from a small town will always evoke memories. Many if not most buildings and landmarks from generations ago are still there, and it is fun to compare what something looks like now, compared to a view on a card postmarked, say, 1912. Many if not most such cards are inexpensive—a few dollars on up for nice cards, perhaps $10 to $30 for subjects such as store interiors. Some towns that were small a century ago, but have large populations today, can be expensive—certain locations in Nevada, Arizona, and California, for example.
QDB: Suppose someone is from a home town of say Peoria, Illinois. How many cards can they collect and how would you go about forming a collection of that particular place? What would you pick out if you were filling someone's request through the mail?
MLM: If someone wants to collect Peoria—perhaps they've just moved there, or have family in that place, or simply enjoy the history—they could come here to Perryville and probably see 150 early cards, say from 1900 to the 1930s. If they want modern cards, we have even more. The "chrome" cards of the 1950s onward are very collectible. If they wanted to go into the 1970s, perhaps 300 or so would be available.
QDB: What are some other favorites?
MLM: Cards that show people doing things are popular with visitors. Prices range from inexpensive, such as factory workers, to in the tens of dollars for a merry-go-round, or a political rally, or other popular subjects for which cards are scarce.
"Signed artist" cards, as they are called, are printed in color and have the signatures of Harrison Fisher, Philip Boileau, Howard Chandler Christy, or one or another of the illustrators popular in the early 20th century. These are very popular to collect in runs and sets. If a card is by Raphael Kirschner it can be worth hundreds of dollars, or if particularly rare and attractive, can challenge the thousand-dollar mark. The same can be said for the Art Nouveau cards of Alphonse Mucha. At a recent show I sold quite a few of these more expensive cards, which seem to be in particularly strong demand now.
The Kirschner cards and Mucha cards can be sold in sets of related images—such as the Mucha "months" cards, printed in Paris, with 12 subjects. A few days ago I sold a Kirschner set for $4,000. A few years ago there was a slight lull in the market for high-end artists' cards, but that is history, and now the demand is the greatest I have ever seen. Buying good Mucha cards is hard to do, and selling them is easy. The demand is huge and almost every major show I get asked for very good Mucha cards.
QDB: Now with regard to "real photo" cards; cards that were made by photographers and printed of various scenes, what are some of the subjects people want? What would be a low-priced card? What would be a rarity?
MLM: Prices vary widely. A lady pushing a baby carriage might be worth only a few dollars, a schoolhouse with students maybe $25. Cards with images by well known photographers were ignored ten or twenty years ago, but are now becoming popular—cards of Thaddeus Wilkinson, for examples. I've seen people pay over $1,500 for a single "great" photo card by a famous photographer. These, however, are the exceptions. Recently in an auction by Lyn Knight there was a "real photo" card of a tattoo artist that brought over $4,000.
QDB: You mentioned chrome cards earlier. Can describe chrome cards and other eras of cards? As a collector I know there are early cards and late ones, and there are modern cards. What are some of the eras of collecting cards and do people collect all eras or do they specialize in just particular time frame?
MLM: Most collectors start by looking at a particular area. Often, they will say they want cards only from before 1940. However, after they get quite a few of those, they will expand into the 40s, 50s, and 60s. This is easy enough to do with home-town cards, but also is popular with other subjects—such as automobiles, airplanes and airlines, political campaigns, and the like. Whether a card is from 1910 or 1960, it reflects what was going on at that particular time.
If you're a specialty collector and let's say you're collecting Santa Clause or Halloween cards, you will probably stay with the beautifully lithographed cards from before 1920. However, say you like billiards and billiard halls, then you would buy a nice card from 1908 or 1911, but also of interest would probably be an advertising card from maybe six years ago that has a famous pool player on it, such as featuring a certain type of cue. No two collectors are alike—which contributes a lot to the interest and dynamics of the hobby.
QDB: Now today as we enter the 2010 year here are postcards for sale in drug stores and other such places; bookstores; but we no longer have the penny postcard. How actively collected are postcards that are being made today? Are they widely sold? Widely used? We have e-mail and things. What is the status of the postcard as a postcard other than a collectible?
MLM: Modern cards are a very strong part of the hobby. When I visit different towns throughout the United States I always look for postcards when I go into drugstores, shops, or see a newsstand with them. I always ask the person, "Do you sell many of these?" They always tell me, "People will come in and buy one of every different view." Cards with views are very popular. Cards for holidays are not as much in demand, as greeting cards have taken their place. Sending cards from far-away places remains very popular. In a visit to the Louvre in Paris I learned that the number one selling item in their gift shop is the postcard of the Mona Lisa.
QDB: You mentioned a card in a Lyn Knight auction. How are postcard auctions conducted? Where are they? And how does someone find out more about postcard auctions?
MLM: Postcard auctions are held all over the country but probably the best right now, especially for rare cards, are those conducted by Lyn Knight in Kansas. He's been doing them for a few years and he does a first-class job. His staff is very knowledgeable, and his catalogs are collectors' items in themselves. Our own business, Mary L. Martin, Ltd., has been conducting auctions by mail for many years—some call them mail bid sales. These offer many opportunities, as to the mail sales of other dealers and sellers nationwide. I expect that as time goes on, Postcard World will have a lot of news about auctions. They are exciting to everyone.
Internet auctions are another venue, especially if you have a lot of time on your hands. I expect that a little stack of cards you could buy in an hour in a visit to our store would take a day or two to buy on the Internet! However, this can be fun to do, and there area always surprises.
QDB: You conduct postcard shows. Tell me where they are, when they are, and also besides your shows, who else conducts shows and how often—an overview of postcard shows.
MLM: There are postcard shows just about every weekend, often a half dozen or so at a time. Most of these are local or regional setups in which from a dozen to several dozen sellers set up on tables, showing boxes and albums and cards. Sometimes these are sponsored by clubs, other times by dealers. The Metropolitan club is one of the oldest club shows and still one of my favorites, held twice a year in New York City. Our largest show of the year is the York (Pennsylvania) Postcard Show in November, it's always the week before Thanksgiving. I have conducted that show for over 20 years, and it steadily grows in attendance and popularity. Last November we had dealers from all over the world and 32 different states—a great turnout with lots of excitement. We also do a large show in Orlando in early January, a nice time of year, especially for "snowbirds" who fly down from the North. Usually there are about 65 dealers. Lyn Knight recently purchased the rights to a twice-yearly Chicago show, for which we have high hopes. Postcard World will contain timely show news of events large and small.
In the United States there are probably at least 500 dealers, mostly part time, who set up at shows. While some travel around the country, most stay in a particular state or region. Because of this, if you go to a show in Los Angeles you will see a different group of dealers than at a show in Maryland.
QDB: Now how does one store postcards if one collects them? How do you enjoy them once you get home from a show or auction?
MLM: The most popular method is to put them into clear archival sleeves and store them in a shoebox or similar container. Probably 95% of the collecting community does this. If you are a dealer, or if you want to show them to other collectors, putting them into albums is the way to go. Similar to the world of sports cards, we sell art cases and other displays. Whether you store them in holders or albums, you can have a veritable art gallery or museum in your own home!
QDB: America has been in a recessionary economy now for about two years, very seriously for a year-and-a-half. How does this affect people spending money on postcards?
MLM: I get asked that question a lot. Actually, business has been very strong, even in this bad economy. However, when people spend money on cards they now think twice about what they buy—they want something they hope will be of lasting value and of sustainable interest. Postcards are a relatively young and very vibrant hobby. Even the great rarities are inexpensive in comparison to what other collectibles cost—say baseball cards, some of which have sold for hundreds of thousands of dollars each. Postcards are very affordable. They also provide many emotions—a special satisfaction. There is something special about finding a card showing a high school or grade school attended years ago, or buying a "real photo" card of a horse-drawn wagon in front of a general store, or a nickelodeon theatre with all sorts of posters plastered on the front. Our York show last November broke the previous years attendance record, and dealers were busy from the opening moment until the time to close. More people are discovering our hobby each day.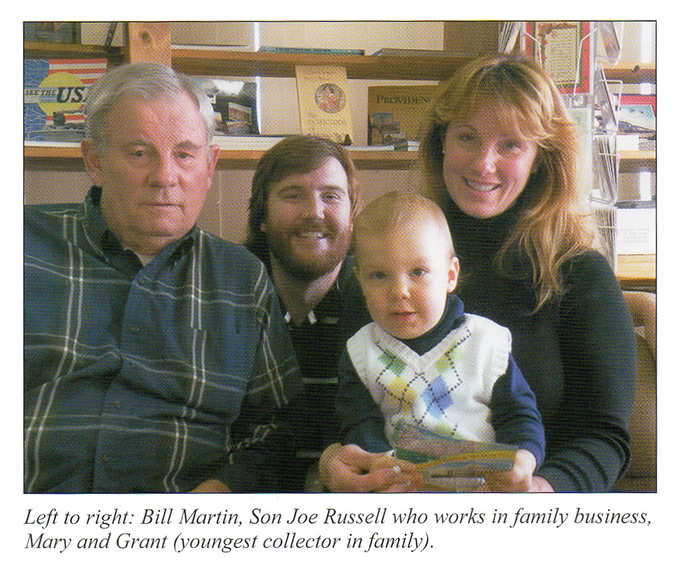 QDB: Tell me a little bit about Postcard World. Why did you create this magazine, and where do you see it headed?
MLM: I felt there was a need for an attractive, informative, color-illustrated magazine in our hobby. There are none now, whereas for stamps, coins, antiques, and other collectibles there are multiple high-quality magazines in each specialty. Postcards are visual and are ideally suited for illustration. In reviewing our business with my father and my son Joseph, we all agreed that a nice magazine was something that is missing.
I hope that it will enlighten, inform, and inspire readers to further appreciate the collecting of postcards. It was needed to provide deltiologists with current information, research findings, and interesting articles about our field. It will also be a place to showcase upcoming events. I hope that everyone will benefit. There is no "agenda" or "slant," other than to share what we know and invite others to do the same. For advertisers we hope it will be profitable, for collectors we hope it will open many doors to finding things and exploring new areas.
QDB: Now you mentioned deltiologist, which means postcard collector. We have numismatist for coins and philatelist for stamps. Do people call themselves deltiologists or do they call themselves postcard collectors? How widely is that term used?
MLM: It's being used more frequently now then it was a few years ago. However, it is mostly seen in print. People still call themselves postcard collectors. Speaking of which, I should mention that we get a lot of crossover collectors. I might be at an antique show and see a lady who is well known as a collector of antique teddy bears. She might not think of herself as a postcard collector, but she might spend a lot of time looking through postcard dealers' stocks to find teddy bear postcards. All of a sudden she is a deltiologist too! Collectors of just about anything else—antique advertising signs, Coca-Cola memorabilia, Western gear, coins, automobiles—you name it—can usually find some nice postcards on these subjects.
QDB: Is there anything else you'd like to mention?
MLM: We have covered a lot of territory! Now, I extend my best wishes to everyone who has a chance to read this.