Poster-Style Events on Linen Postcards
by Don Preziosi. Originally published in Postcard World Magazine.
There are hundreds of wonderful poster-style linen postcards in a variety of areas including product advertising, military, roadside (gas, food, lodging, etc.), expositions and more. However, when it comes to a specific event or celebration other than expositions, the poster-style pickings in linens are slim.
When I scoured our collection for examples of linen cards on this theme, I was surprised to find so few that fit the bill. Sure, there are nice linen cards for such annual celebrations as Tulip Time in Holland, Michigan in May, and the Cherry Festival in Traverse City, Michigan in July. And of course, there are linen postcards for Mardi Gras in February and probably many other festivals around the country, but none of these or other festivals, to my knowledge, issued any poster-style linen postcards; just views of parades or people.
The lack of this style of postcard during the Linen Era is even more surprising when one considers the many postcards made for events during the Golden Age of postcards (roughly 1902 to 1918) and through the 1920s. Although my wife and I have just been casual collectors of these, we do have American poster-style cards for events as disparate as the New England Fair in 1911, the St. Helena Vintage Festival in 1916, the Atlantic City Pageant in 1923, the Saint Paul Outdoor Sports Carnival in 1916, the Fair for The Nassau [Long Island] Hospital in 1904, the Jubilee for the Woman's Boards of Foreign Missions of the Presbyterian Church in the U.S.A. in 1920 and the National Motor Boat show in New York City in 1913. I have no doubt that there are literally hundreds of earlier poster-style cards of fairs, festivals, pageants, carnivals, jubilees, shows, parades, centennials and other celebrations.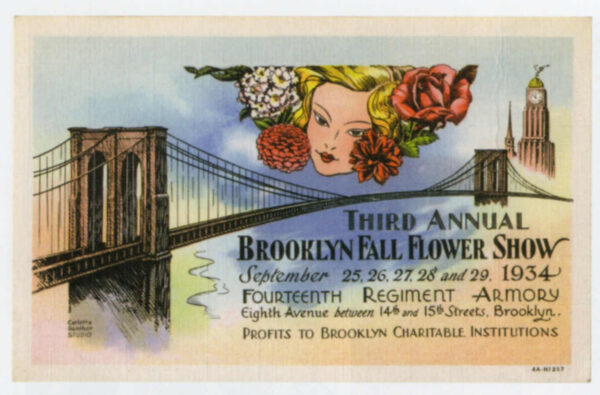 So why are there very few linen cards like these? I can only speculate on a few reasons and can refer to some of the cards here as examples. If a card is announcing a specific event to be held, like the Brooklyn Fall Flower Show on September 25, 26, 27, 28 and 29, 1934, it would fall into the category of the junk mail of its day, much like other advertising cards of the period. The same would apply to the Santa Clara County Fair (probably 1951). In the Linen Era, most would have been thrown away because junk mail just wasn't saved like other postcards were, whereas in the earlier decades, postcards were more likely to be saved no matter what their intention.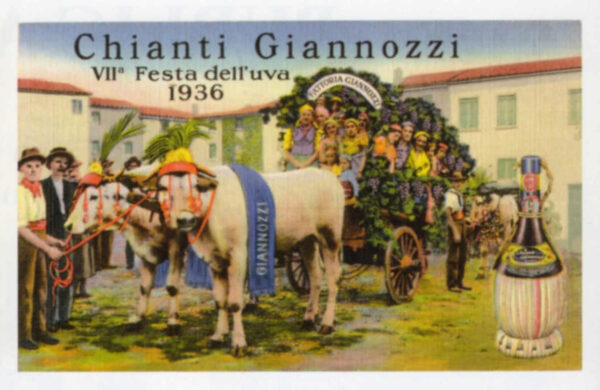 The Chianti Giannozzi VIIth Festa dell'uva (festival of the grape) in 1936 wasn't printed until 1937, so clearly it was just a promotional card that the wine importer used in America. Again, if the card were mailed, it would have been junk mail.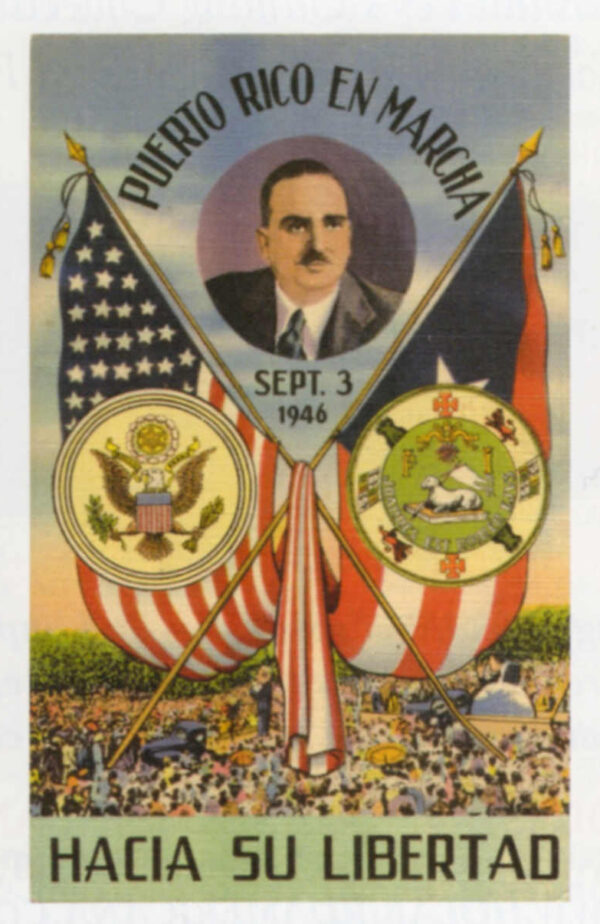 Dated events would certainly have a limited lifespan for sales or distribution. The great Puerto Rican card shown here commemorates the appointment of Jesús Toribio Piñero Jiménez as the first native Puerto Rican to be appointed governor of Puerto Rico by the Government of the United States. Presumably, September 3 (as shown on the card) was the day he was installed in office. I am a bit puzzled as to why this card is so rare because one might presume that many Puerto Ricans of the time would have wanted a postcard celebrating that Puerto Rico was "on the way to freedom."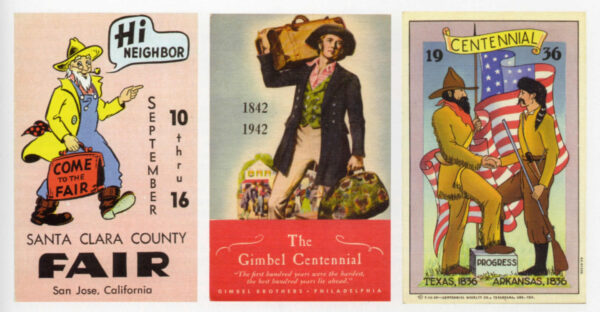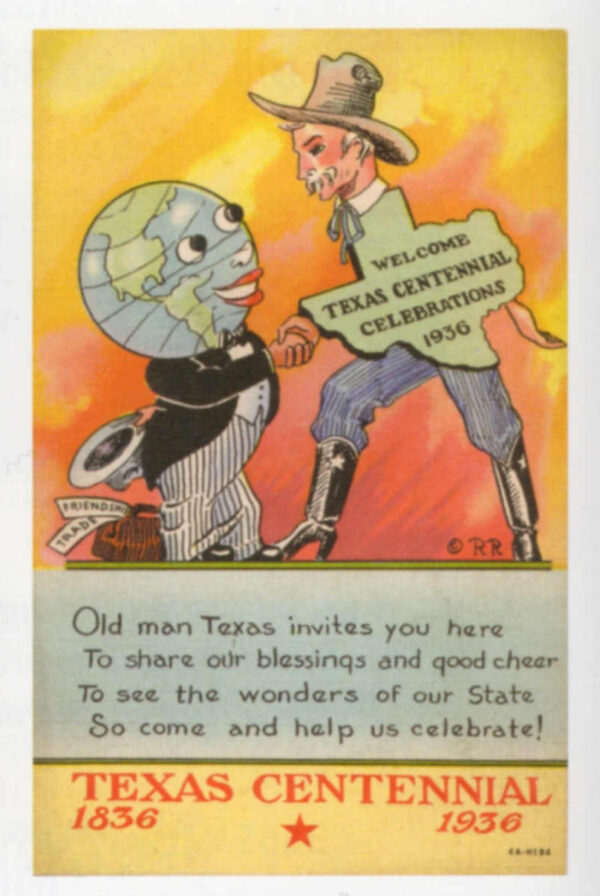 Centennial cards like the two for the Texas Centennial and the one for Gimbel Brothers were much more likely to be saved by collectors of the Linen Era. Also, since the cards were "valid" for a whole year, I would expect that many were printed and thus more likely to survive. However, that doesn't seem to apply to the Gimbel Centennial card. The postcard was given away at the Gimbel Restaurant on the seventh floor of the Gimbel Brothers store in Philadelphia, and is specific to that location and not the other six Gimbel stores. I would think such a free card would be easy to find, but it is not.
The final two cards are easier to find for good reasons. I don't know what year the Helldorado Day, Las Vegas card is for because it doesn't indicate any year. The caption on the back only states that it is a "four day galaxy of rodeo, carnival, Mardi Gras, pageantry, fiestas and Hymn to the Sun that comes to Las Vegas every May." The fact that no specific year is given would enable the publisher to keep distributing this card for years, or at least until the supply was finished. Who needs worthless dated event cards?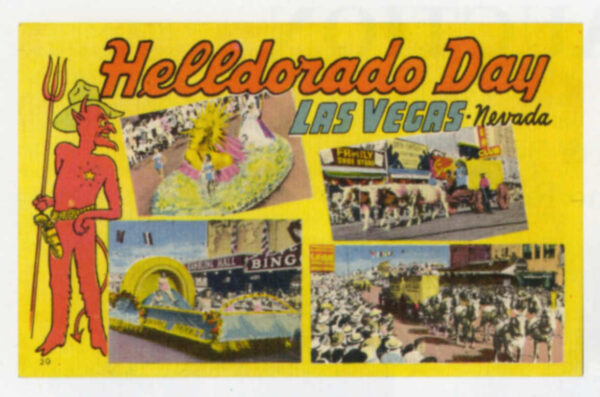 Las Vegas was a vibrant place during the building of the Boulder Dam (now Hoover Dam), but when it was mostly completed by 1935, there was not likely to be a reason for anyone to stay in Las Vegas. Helldorado Days, which began in 1935, were originally created as a way to encourage tourism upon completion of the dam.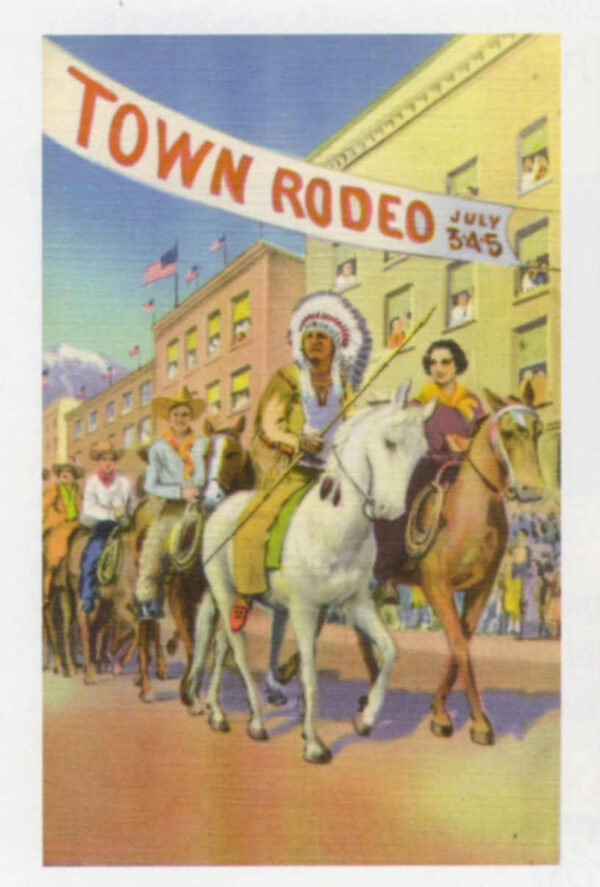 The last card is an even more clever marketing idea, though somewhat of a cheat according to my qualifications for my theme. From the front, it seems to be a card celebrating a specific Town Rodeo on July 3-4-5. However, the card, issued by the Northern Pacific Railroad, is really a generic card. On the back it is titled "Rodeo Parade in the Northern Pacific Country" and says, "Colorful street parades open cyclonic roundup celebrations annually every summer in the Northwest's dude ranch and cattle towns." A lovely pseudo-poster-style linen card nonetheless, but I'm not sure I would like to be part of any cyclonic celebrations!